Kabir once famously said, "My Guru and my God stand before me. Before whom do I prostrate myself? I am grateful to you, O Guru, for only through you have I found God." Centuries later, this couplet still perfectly sums up the Indian attitude towards education. In India, education is considered the only path to success and a better life. This has lead to a singular emphasis on study in every Indian household, sometimes tending to the extreme. Much of India's success can be attributed to this emphasis, and in the increasingly information-oriented global landscape is slowly shifting toward India's point of view.
One of the first universities in the world was Nalanda in India. It attracted pupils and
scholars from countries such as Tibet, Korea, and, most tellingly, Indonesia. This exchange of learning and knowledge between Indonesia and India is evidenced by the numerous Buddhist and Hindu monuments around Indonesia, especially in Yogyakarta and Bali. It should come as no great surprise that this exchange has continued to the present day, albeit in a different form.
One reason for this is that Indians expect the same standard of education to be provided even outside their own country and the community in Indonesia has been only too happy to address this need. The modern existence of Indian schools in Indonesia can be traced back to the beginning of the Gandhi Seva Loka, which was started as the Bombay Merchants Association in the 1950s in response to what the Sindhi community perceived to be the bleak academic landscape of the time. This organization now encompasses not only the Gandhi Memorial international School but also the Mahatma Gandhi School, the Sekolah Gandhi Nasional, and The Gandhi Institute of Business and Technology. A branch of the GMIS has been established in Bali as well.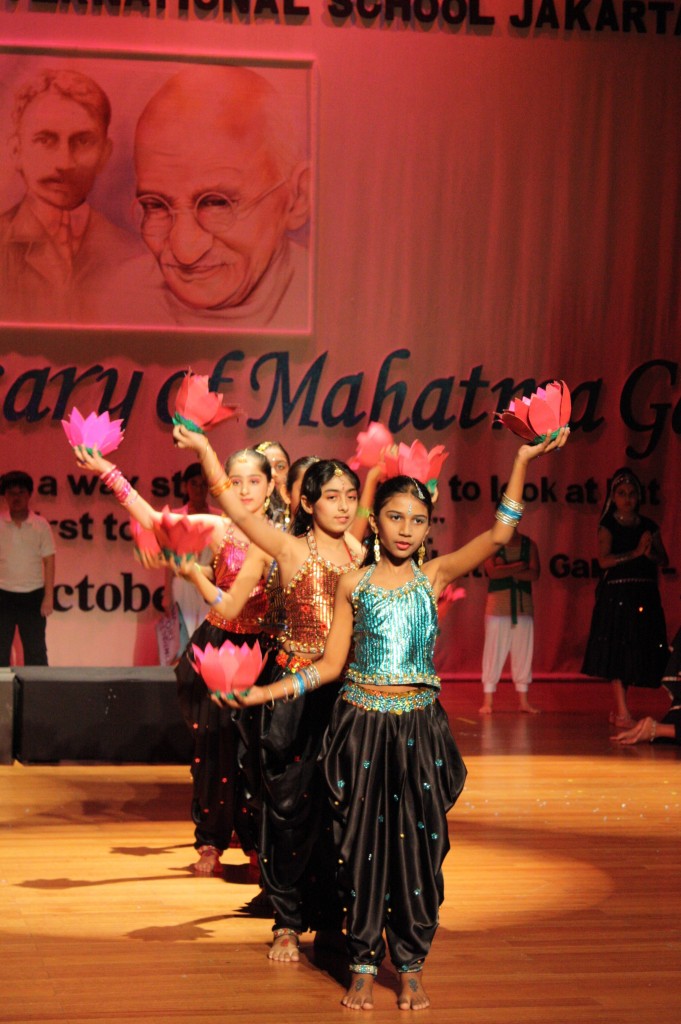 The Texmaco and Indorama companies have taken a step in the same direction by establishing the DPS Texmaco and the Rama International School respectively, and recently there has been an explosion of Indian schools such as the Nehru Memorial School in Bandung, the Beacon Academy, Sunshine Preschool and the Universal School. It is safe to say that there is no lack of Indian schools in Indonesia today.
So what accounts for the uniquely Indian identity of these schools? Does conforming to an Indian curriculum make a school Indian? Does having an Indian principal, or Indian teachers, or a majority of Indian teachers, or Indian students, or a majority of Indian students, make an Indian school? Does celebrating Indian holidays and festivals help? The grounds for labeling a school Indian are ambiguous and possibly arbitrary, so I have settled on a simple characterization: an Indian school is one that imparts Indian values to its pupils.
Indian values? By that I mean special emphasis on honesty, non-violence (so dear to Mahatma Gandhi), respect for one's elders and one's traditions, tolerance and openmindedness (because India is a big place and there are many ways to be Indian that are all equally valid), respect for education (as described above) and pride in one's work, and the importance of serving and being part of a greater purpose, among other things.
The GMIS website states that "The school aims to develop" … "good personal traits which include a strong work ethic, self-discipline, sportsmanship and self-esteem" and "to develop respect and empathy for fellow human beings and their rights regardless of race, creed and gender" while the Beacon academy states that "Once a child exercises the values of compassion, respect, tolerance and responsibility, then we believe that our goal in creating the 21st century learner has been achieved." It is clear that there is a common thread to these two separate institutions, and the existence of this common thread hints at the success of Indian schools in Indonesia.
Wait a moment, I hear you say. What is so specifically and specially Indian about these values? There are countless other schools inculcating these very same values elsewhere in Indonesia that are not Indian in the least. And therein lies the rub, does it not?
I think the indistinguishability of 'Indian' values from 'Indonesian' values and even 'global' values shows just how far we've come in half a century, and to me it is, more than anything else, the true measure of how much success Indian schools have had in Indonesia. A certain amount of assimilation has taken place, and perhaps it is no longer necessary to enforce the distinction between Indian schools and non-Indian schools in Indonesia as it becomes more and more ambiguous and arbitrary. When it vanishes, then we can say that Indian schools in Indonesia have succeeded, as cultural exchange will take place so subtly and so freely between equals that it would not seem to happen at all. And wouldn't that be a wonderful thing to have?
Vaibhav Sagar is an Indian who has lived and been educated in Indonesia. He enjoys making convoluted arguments and espousing Indian values. More articles by him on his blog. He can be reached at vaibhavsagar@gmail.com